Kamala Nehru College Delhi Recruitment 2020: Apply Online for 65 Assistant Professor Posts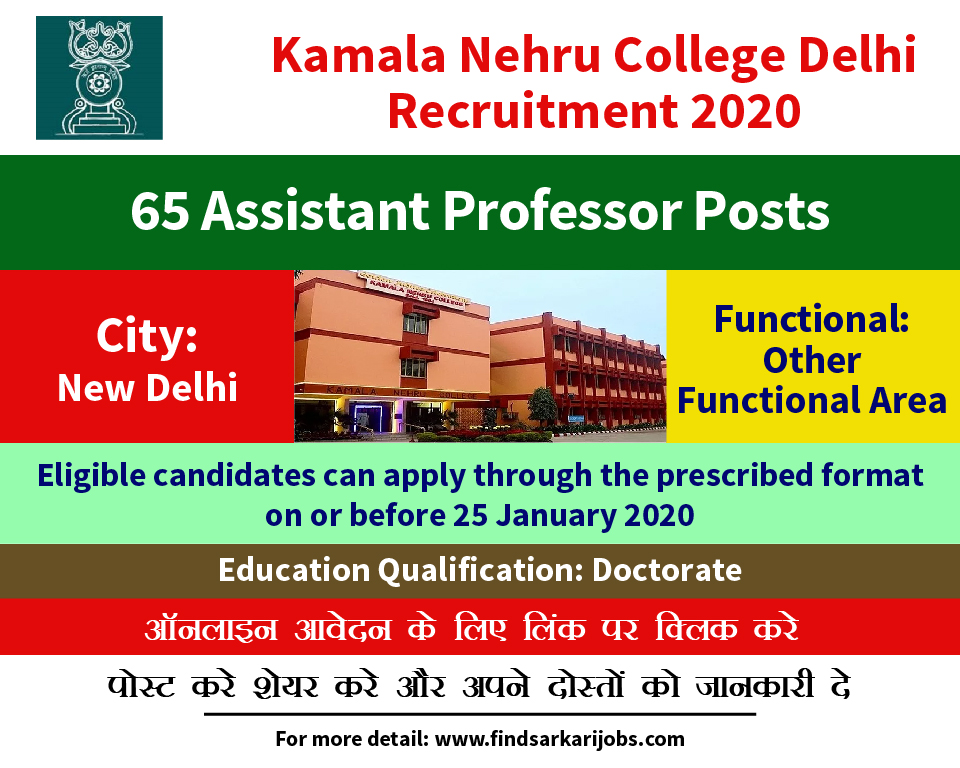 Important Date:
The start date for Online Registration of Application: 11 January 2020
Closing Date for Online of Application: 25 January 2020
Kamala Nehru College Delhi Assistant Professor Vacancy Details
Commerce: 11 Posts
Economics: 06 Posts
English: 07 Posts
Environmental Science: 03 Posts
Geography: 03 Posts
Hindi: 02 Posts
History: 02 Posts
Journalism: 02 Posts
Mathematics: 06 Posts
Philosophy: 03 Posts
Political Science: 09 Posts
Psychology: 05 Posts
Sanskrit: 02 Posts
Sociology: 04 Posts
Eligibility Criteria for Assistant Professor Job
Educational Qualification:
The National Eligibility Test (NET) shall be the minimum eligibility for the appointment of Assistant Professor. Provided that candidates who have been awarded a Doctorate with Ph.D. Degree in accordance with the University Grants Commission (Min. standards and Procedure for award of M. Phil/PhD Degree) regulations, 2009, or the University Grants Commission min. standards and procedures for the award of M. Phil/Ph.D. Degree regulation, 2016 and their subsequent amendments from time to time, as the case may be, shall be exempted from the requirement of min. eligibility condition of NET for recruitment and appointment of Assistant Professor in the University. 2. Besides fulfilling the above qualifications, the applicant must have cleared the National Eligibility Test (NET) conducted by the University Grants Commission (UGC), CSIR or a similar test accredited by the UGC.